Promotional Feature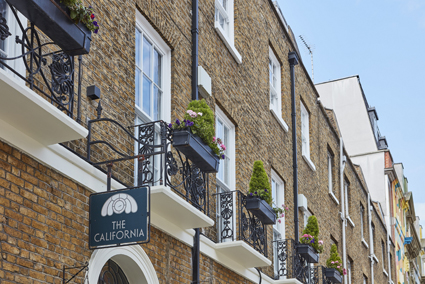 Common myths still persist about PVC-U's suitability in conservation areas, as detailed by Russell Hand, Head of Marketing & Technical at Rehau Windows.
There are over 9,000 conservation areas across the UK, in which the popularity of timber windows has endured due to their look and feel echoing the period-style properties often found in these locations.
However, their durability pales in comparison to PVC-U alternatives, which due to technological advances and expanding ranges now provide matching aesthetic appeal. So what are the myths?

They look different to traditional materials
PVC-U has previously been criticised for a lack of character, making it unsuitable for period properties. Yet this is no longer the case, with a vast array of foil ranges and colouring solutions now available in the marketplace, including wood and cream surface finishes. Combined with advances around specialist designs, flush casements and Georgian bars, nearly any material can be replicated. These innovations have also minimised previous concerns around overly large profiles, which can now closely replicate their timber counterparts.
Indeed, Rehau's Heritage range even offers Georgian astragal bars to add more authenticity. Fitted to the window's internal and external faces, they create a grid that give the effect of traditional period features.

PVC-U doesn't comply with application regulations
This myth stems from The Conservation Act 1990 with which local authorities, housing associations and building owners are charged with preserving heritage structures and conserving materials and workmanship. Yet PVC-U may be less disruptive than timber, as can be more sympathetic and less prone to deterioration. PVC-U also complies with Article 4 of the Permitted Development Rights Act, which states how windows should look but not what materials should be used.
Additionally, PVC-U windows can now be cleaned from within buildings, a safety feature not possible with original timber windows. Rehau's Heritage window range, for example, allows the inward tilting of opening sashes for safer measures. Their specifically selected and tensioned mechanical balances also improve sash mobility, enhancing ease-of-use. They can also be fabricated with enhanced security measures in accordance with building regulations such as Approved Document Q for security.

Plastic is not sustainable
The thermoplastic nature of PVC-U windows means they can be recycled several times before significant performance loss, showcasing their sustainable, energy-efficient credentials. Furthermore, Rehau's PVC Recycling solution at PVCR enables the reuse of polymer window profiles, resulting in windows with a lifecycle of 35 years that can be recycled up to six times.
PVC-U can also help improve building performance by negating heat loss. Rehau's Heritage windows, for example, benefit from built-in thermal efficiency and interior protection, whereas single-glazed timber windows do not. PVC-U solutions can also be double or even triple-glazed to provide further comfort, lower energy bills, as well as levels of sound attenuation not possible with traditional period property windows, yet increasingly vital to modern life.

Customer tips
Installers need to reassure customers and offer best possible advice around planning permissions for replacement PVC-U windows. This can include advising how to make online planning applications and warning customers about potential delays in council decision-making processes. It also includes providing good imagery and literature in an application's supporting materials alongside profile section drawings to compare new and existing materials and providing reassurances that the original windows' appearance will be sympathetically conserved in line with neighbouring properties.

Heritage Windows Group
As well as working with installers, companies such as Rehau also co-operate with organisations as the Heritage Windows Group of The Glass and Glazing Federation to address issues around glazing in conservation areas and heritage buildings.
Alongside this, Rehau works with English Heritage and Conservation Officers to ensure benefits of new materials are considered and remain sympathetic to existing building structures.

Kerb appeal
In conclusion, thanks to innovative developments in PVC-U window technology, traditional, period-style housing aesthetics can be replicated with more sustainable materials, without any compromise on kerb appeal. As such, PVC-U can stand out as an appealing prospect for buildings in conservation areas.
Picture: Better designs, flush casements and Georgian bars are used to create modern PVC-U heritage
windows.
For more on Rehau's hertiage windows - Click Here