Promotional Feature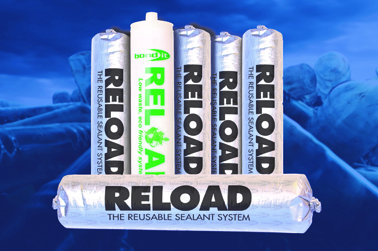 The new re-usable Reload sealant cartridge system from Bond It cuts down on waste, time and costs.
A key issue in building conditions nowadays is the issue of site waste. Not only does it impact heavily on the environment which is reflected in your credentials, the shear costs associated with waste disposal is phenomenal.
Site Waste Management Plans are becoming statutory practice for building projects over £300,000, recording the types of waste and the volume of waste generated per job - which you as construction workers will be responsible for.

The need for Site Waste Control is becoming more important because:
Landfill Availability Is Getting Low: Over the next decade landfill sites will become scarce due to over-filling. This means waste will have to travel further for disposal at a premium cost.
Growing Waste Disposal Costs: Landfill tax is on the increase every year. We are currently paying in excess of £91 per tonne of waste, so weight is key when disposing of products.
Non-Degradable Materials: It has been estimated that over 100 million plastic sealant cartridges are dumped into landfill sites every year – that equals 6000 tonnes in weight.
Impact On The Environment: With environmental policies being constantly improved and more stringent, both the government and industry in general have targeted themselves with reducing the volume of construction waste each year.

Bond It's responsibility
As one of the UK's fastest growing manufacturers of sealants, adhesives and building chemicals, Bond It's responsibility is to contribute where possible in making this achievable by introducing innovative, environmentally friendly, sustainable packaging. By Introducing the new re-usable Reload sealant cartridge system, Bond It feels this is the answer to the landfill issue. It cuts down on waste, it cuts down on time - and it cuts down on costs.

Re-usable cartridge
By encasing a choice of silicones and sealants in a foil sausage, which simply inserts into a plastic re-usable cartridge, all an installer has to do is nip the end with scissors, fit the nozzle and cut as with standard cartridges - and away they go. Once the sealant is used the spent slug is easily removed and disposed of. Select your next sausage, reload and repeat the process.

8 times less in volume
On waste disposal, when empty, the Reload slug is approx 8 times less in volume than a standard sealant cartridge and over 60% lighter - less bulk and less weight.
Currently available in the Reload format are three of Bond It's most popular sellers - Multi-Mate, WP100 and Frame-Mate offered in EU3 foil sausages.
Recycled content
This is also a more cost effective option to consider if the government passes legislation in 2022 to tax imported plastic packaging that does not contain at least 30% recycled content. With current cartridges being produced from 100% virgin plastic there will be a cost increase that inevitably will be passed on to end users of these products.
Switching to greener systems, like the Reload concept, will reap commercial benefits as well as tackling the increasing issue of single-use plastic and its devastating effect on the planet.
For more information on Bond It contact the Sales Team on 01422 315300 or visit www.bond-it.co.uk