Promotional Feature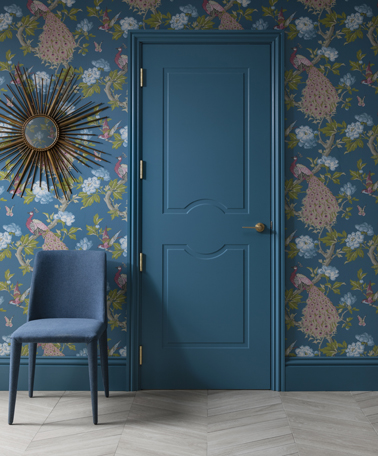 Internal doors can transform the look of any space. As well as acting as a sound barrier between different spaces within the home, they also help rooms retain heat as well as add value to them - do you fancy installing them?
A new company, Maverick Doors, provides the luxury of choice - offering simple, affordable pre-finished doors and doorsets with the opportunity for clients to create beautifully bespoke, easy-to-install designs, all through its website with just the click of a button.
When customers plan the perfect door, there's more to decide on than just the door itself. There's also the frame, the handle and the architrave moulding to consider. Maverick Doors makes this process straightforward and stress-free through its online design service. Offering an impressive choice of nine distinctive styles and a select range of colours, finishes and ironmongery, each door is made-to-order and finished in the factory.
When it comes to fitting the doors, the products are available in two heights: 1981mm and 2040mm, which can be combined with a variety of widths. Non fire-doors are 40mm thick and fire-doors are 44mm thick. Maverick Doors has also developed a frame that comes with an extension piece that can be modified on site to suit wall thicknesses from 80-290mm. This enables customers to order the door-set even though the exact wall thickness may not be known.
The doors are constructed of solid MDF for the 40mm doors, while the 45mm fire doors have a solid core interior with MDF faces.

Decorative finishes
The doors can be primed (for onsite painting) or they can come pre-finished in the factory in six different colours: White, Black, Dark Grey, Mid Grey, Light Grey and Ammonite.
There are four designs of door handles that come in five different finishes: Antique Brass, Dark Bronze, Satin Brass, Polished Nickel and Satin Nickel. Each comes with matching bathroom turn and releases and escutcheons and euro cylinders for the locking doors. The door sets come with four 100 x 75mm steel fire rated butt hinges that are also available in the choice of the five finishes mentioned before.

Sound insulation
The frame design from Maverick Doors is a rebated frame with acoustic gaskets, which help with the soft close sound of the very heavy doors (which can weigh up to 65kg) and also has great sound insulation.
Fire strips can also be built in if required on the fire doorsets. An extension piece is provided that can be slotted easily into the back of the frame that can be trimmed onsite to fit most wall thicknesses from 80mm-290mm.
Each door offers top quality and consistency, as the factory-controlled environment guarantees the Maverick Doors standard.
The resulting products are genuinely top quality, beautiful doors that will provide a stunning focal point within the home for years to come. Best of all, the installation process is as straightforward and simple as it could possibly be.
Onsite labour times and costs can be significantly cut. For example, the doorset can be installed in around two hours, compared with the usual two days for the installation and painting of a conventional door and frame. This also reduces the need for more trades, meaning fewer people onsite for less time – a fact that is particularly relevant during this time of social distancing.
The team at Maverick Doors has an impressive portfolio, providing doors for award-winning private residences, celebrity homes and international hotels. Part of the SWD Bespoke group, Maverick Doors combines knowledge, quality and expertise to create exceptional products.
Picture: Maverick Doors come in a range of styles and multiple colour choices with a full selection of hardware included as well.