Promotional Feature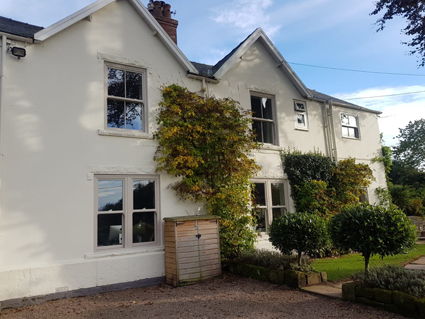 The continuing surge in demand for heritage windows is good for business but comes at a cost, says Quickslide's Adrian Barraclough.
The popularity of flush sash-style windows has significantly broadened the number of homes that may be fitted convincingly with heritage windows, with vertical sliding, box sash replacements being quite strictly limited by the number of homes that may justifiably carry them as replacements.
Whilst every fitter will have many tales of inappropriate window types and styles being insisted upon by homeowners, replacement vertical sliders (VS) once only tended only to find their way into homes that were built with them, however old they may be, not least of course because they are more expensive than casements.

Devil is in the detail
With the market now dominated by heritage styles, competition is fierce and as with any competitive sector, the devil is in the detail for both flush sash and box sash windows - every systems house and ever more so, frame manufacturer, now forensically describes the minutest characteristic of their offerings. A decade ago, who could have forecast that how joints were executed could have created so much press copy?

Heritage in heritage
All of which includes Quickslide of course, which has been making replacement box sash frames for a great deal longer than most. Quickslide became pioneers in the creation of the market for affordable, replacement box sash window frames, when the owners of the company calculated that around six million homes in the UK bore this type of frame, with very few of them being listed mansions.
Quickslide offered PVC-U vertical sliding windows that enabled millions of ordinary homeowners at last to be able to replace broken down original or even second generation single glazed, timber frames, with windows that offered the performance and comfort offered by the latest double glazing, at prices that didn't bankrupt them.
But that, as they say, is history. Since then the market for VS windows has gone from being strictly niche to one that is highly competitive and which requires, paradoxically, ever increasing financial and technical investment to create the refinements – the detail – that might distinguish one brand's product, from another. And of course, to increase manufacturing efficiency and output and thus improve product quality at the same time.

Authenticity
Just as Quickslide is a market leader in VS heritage styles, then so too were we an early adopter of flush sash styles, for which the market is even more competitive with even more companies producing such frames. We have to be on our toes to continue producing a range of frames at the right price and quality, yet also which satisfy the homeowner's increasing knowledge of and insistence upon, authenticity.
Working so hard to ensure something looks genuinely old requires an enormous investment. In addition to the substantial sums we have invested so far including Graf welders (to produce those seamless, authentic joints), a paint shop (offering a range of paint finishes to emulate traditional colours). Just as coronavirus lockdown kicked in, we commissioned a brand new Schirmer machining centre which, with other plant and improvements, has involved a further outlay of around £2 million.
Before the world shut up shop in March 2020, Deceuninck heritage flush sash windows were flying through the factory, accompanied by our brand new Legacy Vertical Slider.

Efficiencies
Back before the world turned on its head, our Brighouse factory was producing around 1,000 frames a week, the majority of which were heritage styles including Deceuninck's flush sash and our brand-new VS. With our factory gates well and truly open again we are now better equipped than ever to work towards the re-building of those pre-coronavirus volumes and indeed, beyond. The Schirmer cutting and machining centre now supplements two Urban corner cleaning machines and two quad welders that were installed towards the end of 2019. And new vehicles will drive – sorry – efficiencies in our distribution as sales restart and build.

Focus
Quickslide is built around the delivery of high quality, replacement heritage-style traditional windows. whilst we continue to offer a full range of windows together with sliding and entrance doors, our focus remains on respecting our heritage and offering homeowners windows that maintain the style of their homes as authentically as possible.
Picture: Quickslide produces VS heritage styles, and flush sash styles along with other designs and sliding entrance doors.