Promotional Feature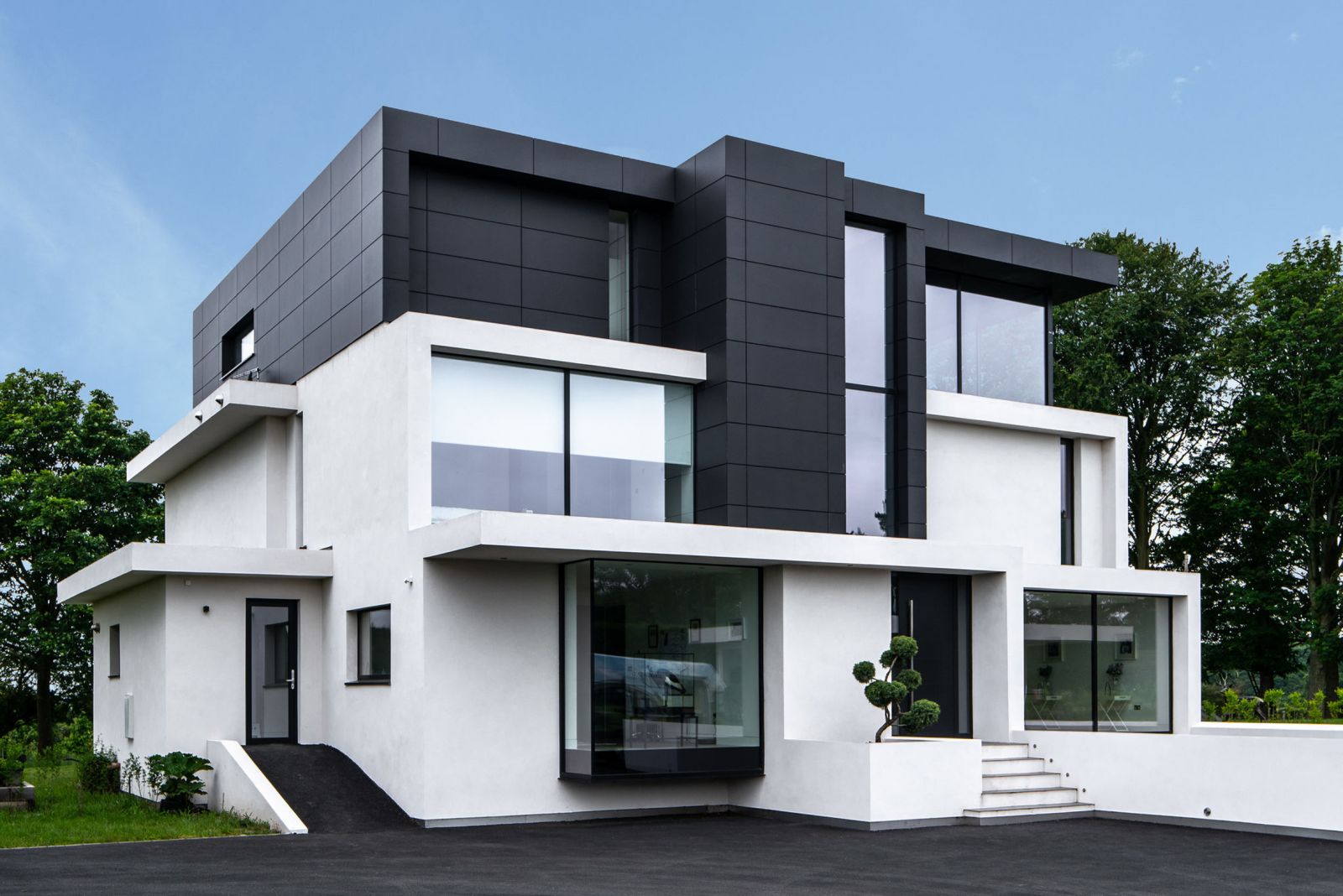 Reynaers products have been installed across this expansive four-storey design of stacked modular structures to enhance the striking façade and offer the homeowner great views across the countryside.
Located in a small village off the North Norfolk coast, the home includes spacious living areas, open-plan kitchen and a state-of-the-art cinema room.
Reynaers Hi-Finity sliding doors have been used to blur the boundaries between interior and exterior - the glazed panels are made possible by the system's ability to carry up to 500kg of glass. It allows for the build to extend seamlessly beyond its 'four walls' and into the surrounding landscape.
The Hi-Finity system enhances the contemporary design whilst providing an energy efficient home that is comfortable and cost effective.
"This spectacular residential property is an awe-inspiring project which truly stands out from the crowd. The minimal sightlines embrace every inch of the Norfolk countryside, and offer fantastic space for fluid family living."
-Rebecca Cope
Marketing Manager, Reynaers
Energy and security
To further enhance the functionally of the property, the Reynaers CS 86-HI system has been installed in areas of the home where a hinged opening is required. It offers a highly insulated and robust flush system, which meets the highest requirements of safety, including burglar resistance level 2 as well as providing thermal insulation and stability.

Livingwood Windows
The products were installed by nearby Suffolk based Livingwood Windows, a company which has over 50 years combined experience in the building industry. The firm's expertise in installing the highest of quality windows and doors ensure that each product performs to the best of its ability.
Antony Jackson, Director at Livingwood Windows says: "We are always thrilled to be involved in such fantastic projects that utilise the products we have worked on creating. This one in particular uses Reynaers Hi-Finity sliding doors and the Reynaers CS 86-Hi to enhance the overall structure of the façade which is both clever and captivating, exhibiting glazing systems to the height of architectural design."

Living space
The clean, minimalist interior is furnished with unique items such as neon lighting, taxidermy and artisan style furniture. The lower ground floor is undetectable from the front of the house and creates a private sanctuary away from the hustle and bustle of the world, however still allowing light to flood in.

Playful windows
Reynaers' Rebecca Cope continues: "The interior design within this residence adds a really playful element to the use of windows. Glass panel floors expose neon signage below and allow the eyes to delve into the lower levels of the home. It is a truly unique project that we are proud to have been a part of."
Picture: Striking views across the Norfolk countryside have been guaranteed by Reynaers windows and doors and a great installation by Livingwood Windows.
To find out more about Reynaers at Home visit reynaersathome.co.uk
To find out more about Livingwood Windows visit livingwoodwindows.co.uk
---

Brochures
Reynaers has unveiled four new brochures featuring useful consumer-facing product information for trade partners as part of its ongoing support for the replacement window and door market.
Rebecca Cope, Marketing Manager says: "Our trade customers can now order Reynaers' branded brochures directly or they can arrange to have their own logo feature alongside the Reynaers logo to create bespoke versions.
"We've invested in a range of beautiful project images that our trade partners can make use of in new dual-branded marketing collateral. We've made it as easy as possible for fabricators and installers to show off our trade product range for their customers. There is vital information included within four different brochures for end users on important topics like security, insulation, weather resistance, design, reliability, appearance, colour – and more."

Training centre
The increased services that Reynaers offers to its trade customers also includes a new, state-of-the art training centre, located in Birmingham's Northfield. Reynaers has invested £6 million in its Knowledge Centre HQ, which features the impressive training facility.
Rebecca Cope continues: "Offering an ultra-modern showroom and training centres for fabricators and installers, our facilities allow industry professionals to keep up-to-date with the very latest in our striking range of aluminium systems. It means that we can help to develop skills and understanding of the products, how they are fitted and the benefits that customers can gain from choosing specific products.
"Our team offers practical and theoretical training to ensure products are always manufactured and installed to the highest of standards."
For Installers and fabricators interested in seeing the training facilities for themselves
t. 0121 421 1999
For more information about Reynaers' dedicated trade offering and to download brochures, go to www.reynaers.co.uk/en-UK/Trade